Our reviews keep us honest – and keep you informed.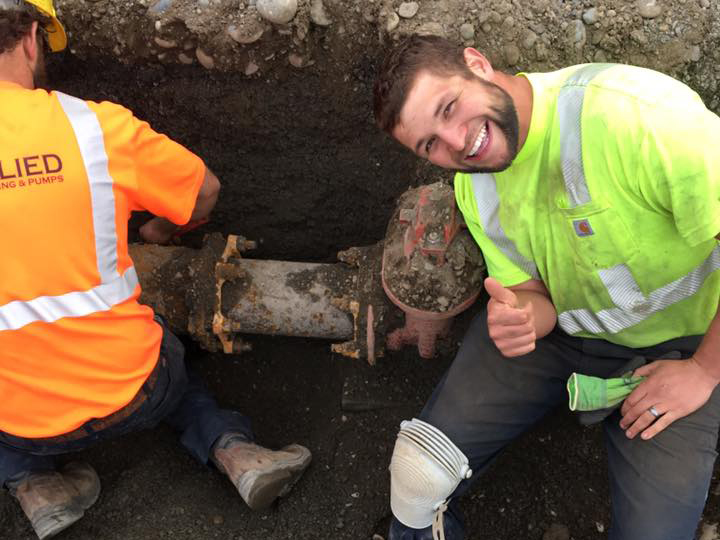 Our Reviews Speak For Themselves
At Allied Plumbing & Pumps we stand by all our plumbing reviews and testimonials because they are from real people from in and around this area. We are always happy to hear from our clients because they are the lifeblood of our business and the reason we work so hard.
"Reliable, honest and fair"
With reasonable pricing. Staff is very pleasant in tough situations. Highly recommend for your Plumbing needs.
– Heather Mathews
"They have a great staff!"
I can depend on them to help resolve difficult situations. I work in the property management field and it's nice to know they are available 24/7!
– Bill Brender
Allied Plumbing replaced our entire water pipe system along with 2 new water heaters and a recirculating system. Three full days of work and a job well done. Korey was the lead and Josh was his right hand. They worked like clockwork. They were very knowledgeable, organized, polite and as clean as possible from under the house dirt to inside the house. Great young men to work with. Thank you both.
– Betsy Kronschnabel
"We will be using them again"
The serviceman that came to our business was so nice! We called in the early afternoon to get someone to check the water heater at Planet Fitness. We had a plumber out in a couple of hours! He was so nice and explained everything he saw and fixed it quickly. Great price too! We will be using them again if we ever need other work done.
– Lauren Grace
Davey, Christian & Ethan worked above and beyond to install a new water meter & water supply line for us this week. Backhoes, Jack hammers, Saws, and other kinds of machines and equipment were employed by these guys as they worked "tirelessly" from morning to evening with very difficult rock filled terrain. We highly recommend the Allied Trenchless team. They rate 5 stars in our book. They really came through for us!!
-Wil Conner
"10/10 - would recommend"
The Cashmere Museum is grateful for the help Allied Plumbing & Pumps provided to us recently as we build a new ADA compliant bathroom on our ground floor. One of our Board members is donating his time to build it, and Allied agreed to donate their time and technology to help us locate and hook up to the sewer. Kevin, the technician, was on time, extremely professional, communicative, and worked well with our team. We are now ready to progress to the next steps and could not have gotten to this point without Allied's generosity.
-The Cashmere Museum
In the plumbing and pumps business, the fact is, what your customers think and say about your level of customer service reflects how you've served them – and influences new customers. It's not about new customers and their money to us, though. When a real customer from the Washington region tells a friend or family member about the positive experience they had with us at Allied Plumbing & Pumps, we feel satisfied in the knowledge that we have helped our community stay safe and healthy.